Rating -



Cast & Crew info:
Giuseppe Cristiano
Michele
Mattia Di Pierro
Filippo
Aitana Sánchez-Gijón
Anna
Dino Abbrescia
Pino
Giorgio Careccia
Felice
Diego Abatantuono
Sergio

Produced by Marco Chimenz, Giovanni Stabilini, Antonio Tacchia, Maurizio Totti, Riccardo Tozzi; Directed by Gabriele Salvatores; Written by Niccolò Ammaniti and Francesca Marciano; based on the novel by Niccolò Ammaniti

Drama (Italy); 2004; Rated R for disturbing images and language; Running Time: 101 Minutes

Official Site

Domestic Release Date:
May 7, 2004

Review Date:
5/14/04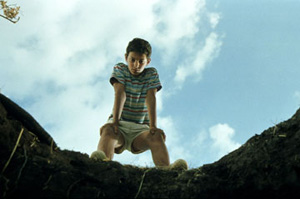 Written by
DAVID KEYES
Our movies have become starved for protagonists that exist outside of the shell of the conventional, and in Gabriele Salvatores' "I'm Not Scared" we see one director's attempt to nourish that prospect. Young and adventurous, Michele (Giuseppe Cristiano) is an Italian boy who dreams almost as often as he speaks, acting on impulse no matter who his critics are, often reciting lines from comic books while he ponders consequences of decisions before ultimately making them. In the Italian countryside, of course, there's only so much trouble you can get into, but when Michele wanders out of the lush wheat fields he considers a personal playground and onto a seemingly-abandoned lot, he finds himself at a position that no kid of his age should have ever had to face. The consequences of his curiosity might have been any normal child's undoing, but here they become the platform for which Michele can rise above his standard and live the stories of heroics he reads daily in his comics.
These could be typical devices with any movie that is devoted enough to its central players to give them a plausible sense of motivation, but what separates "I'm Not Scared" from the pack is the level of intimacy these filmmakers have allowed to seep into this story. The movie is almost too perfect for words, a brave, thoughtful and moving little epic of a film that creeps up on you when you least expect it to, and leaves behind a lasting impression that is rarely matched. Whether it is busy being menacing, hopeful or just downright playful, "I'm Not Scared" is an enthralling experience that is simply too amazing to be easily forgotten.
The story itself, told primarily through the points of view of children, recalls a setup that has served as the premise of several loud and violent Hollywood blockbusters. The Italian media is buzzing with reports of a child kidnapping in a wealthy family by a group of money-hungry thugs, something that, we immediately gather, has become a routine offense in a poverty-stricken area where adults always seem to have their heads together thinking of new ways to earn a quick buck. Being the watchful kid he is, Michele casually glances over his father's shoulder and absorbs the details regarding this kidnapping in a secretive but almost forceful manner, as if there is some personal stake for him in the situation that no one else should know about. And no wonder: just days before, he himself discovered that same kidnapped boy being held prisoner just beyond the fields.
At the farthest edge of these wheat fields, in a hole in the ground covered by a metal sheet, lies Filippo (Mattia Di Pierro), the aforementioned victim of kidnapping, who cowers helplessly in the shadows as the world above goes on without him, so disoriented by the darkness and the hunger that there are moments when he doesn't even think he is alive anymore. Michele, who finds him quite accidentally in the early parts of the movie, not only thwarts those ramblings but actually tries to be his friend; he talks to Filippo, brings him food and water, eases his fears and promises to look out for him (there is even a heartwarming scene here in which Michele tells him about his parents appearing on the news to say how much they love him, and the shy boy responds by asking if Michele is his personal guardian angel). Of course, keeping a relationship like this a secret from his parents and his peers is a mighty task even for a 10-year-old who seems to understand the gravity of the kidnapped victim's situation, and when he mistakenly confides his secrets later on in the picture to another of his friends, Michele is exposed and Filippo's life is put in further danger by the men who snatched him.
The screenplay by Niccolò Ammaniti and Francesca Marciano utilizes a great sense of tension, especially in scenes that demand the young Michele to quietly tiptoe around suspects so he can continue looking out for Filippo without giving himself away. But contrary to what media promotion will have you believe, "I'm Not Scared" is in no way a thriller. Instead, it is the kind of movie that requires no definite classification because it evokes a wide array of emotions and sentiments, all of them beautiful, some of them impulsive, few of them misleading. It is one of the purest movies you will see, unhindered by the conventions of cinema and built completely on the essence of feelings. When characters react, they do so naturally instead of conveniently, and when the young actors stare at each other and recite their dialogue, they are genuinely one with the material. Some of these performances from the young stars are above and beyond what you would expect from any actor at this ripe age.
The look of the film is outstanding; its camerawork creeps through the tall and dry wheat fields and follows the youngsters as if the wheat itself were a physical enemy undermining the navigation of these hopeful kids. The vastness of the landscapes resonates with the narrative's concepts of freedom and innocence, while the dirty little corners of an isolated village help underscore the notion that manhood can easily tarnish a child's perception of perfection, especially in a world that appears too grown up for them to fully comprehend. And just as the movie's moods change, so do the moods of their settings; sunlight turns to shadows and open landscapes feel like closed cells once the big revelations are made, and the characters are forced to face those changes before they are able to go the extra step and put everything on the line for what they feel is right.
The foreign cinema has always been a treasure because of its continued refusal to bow to the pressures of studio formula, and like "Life is Beautiful," another Italian movie in which people became heroes simply by being themselves, "I'm Not Scared" is unforgettable in the way it allows absolute innocence to become a force of heroism without it even being the goal of a specific persona. As brilliant as it is honest, this little endeavor is like few movies you will see in any given year.
---
© 2004, David Keyes, Cinemaphile.org. Please e-mail the author here if the above review contains any spelling or grammar mistakes.